What is Tech4ED stands for?
Its Technology Empowerment for
Education,
to gain Employment,
train Entrepreneurs towards
Economic Development.
What is a Tech4ED Center?
A shared facility providing affordable access to ICT-enabled services and relevant content.
A conduit for government and other services
A tool for empowerment and participation of unserved and underserved communities in development.
Why do I need Tech4ED?
With the single ICT Platform displayed. Tech4ED Center will be access point for the underserved and marginalized which gives them the chances to:
Upgrade their literacy level
Increase their knowledge and skills to gain employment
Start a source of livelihood
Improve productivity to increase income
Avail of government services
Create a community with common interest (Farmers, Entrepreneur, Education etc.)
What are the Tech4ED Learning Center Services?
The Tech4ED Platform has various content and learning materials classified into eight (8) segments: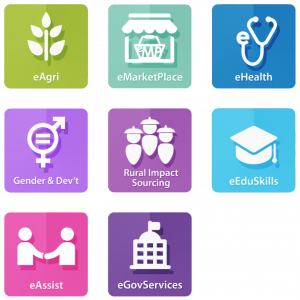 eAgri aims to use ICT to enhance and localize farm technologies for increased productivity and reduced cost for farmers and fisher folks.
eMarketplace Provides greater market reach beyond the entrepreneurs' community for exponential economic growth and opportunities.
eHealth Provides access to basic health information and access to available and existing Philippine-based health related online resources
Gender and Development provides content on women empowerment, policies for protection of women and skills enhancement.
The Rural Impact Sourcing (RIS) segment contains content that aim to promote ICT-enabled jobs with high-economic activity. It is targeted at users in rural communities to help them gain employment through the online freelancing industry.
eEduskills aims to deliver e-Learning on demand to address the education divide.
eAssist focuses on providing learning and continuous skills development opportunities for digital inclusion for special sectors.
eGovServices is the link to the National Government Portal, an aggregation of various content and services from government agencies, making the Tech4ED Platform a one-stop shop for selected government services.
and still counting and a lot of more of ICT services
Who can avail Tech4ED Services?
Our Target Sectors / Clientele / Beneficiaries are the following
Out-of-school youth & adults
Teachers
Students
People with Disabilities
Women
Senior Citizens
OFWs, their Families/Relatives
Entrepreneurs
Indigenous People
Farmers and fisherfolks
Can I avail it individually?
YES, we can cater you individually or by cluster, it doesn't matter.
How about schedule?
Schedule is in your hands. We can arrange it!
How to avail this?
Visit our Tech4ED Learning Center or you may contact our Center Managers
Giovanni N. de los Santos
EVSU – Faculty Member
Tech4ED email: vanny_gdls2208@yahoo.com
Ma. Windie C. Velarde
EVSU – Faculty Member
Tech4ED email: mawindie.velarde@gmail.com
Don't hesitate because we are here to guide and help You!
---