𝐇𝐚𝐢𝐥 𝐭𝐨 𝐄𝐕𝐒𝐔-𝐓𝐚𝐜𝐥𝐨𝐛𝐚𝐧'𝐬 𝟔𝟏 𝐍𝐞𝐰 𝐂𝐢𝐯𝐢𝐥 𝐄𝐧𝐠𝐢𝐧𝐞𝐞𝐫𝐬!
PICE-EVSU-SC family congratulates our newly registered civil engineers! You are all an inspiration!
Abasolo, Aireen
Aberia, Mark zoren
Adina, Bryan
Advincula, Carl Don
.Afable, Shiela Marie
Alao, Flor Angelu
Alcaraz, Arjie
Apurillo, Loise Paul
Avorque, Florian
Ayles, Earl John Nick
Bagon, Czarina Rose
Balatero, Carmalle Rose
Baleros, Serkin
Barbosa, Deowee
Briones, Marcial
Caalim, Bernardino III
Cabigon, Ma Shiela
Caiyas, Lyn
Casas, Ralph
Capaycapay, Seth Cabrera
Chua, Khristine Joy
Comique, Anna Mae
Curay, Alyssa Jane
Dapon, Edmar
De La Cruz, Beah Francia
De la Cruz, Jessa Lyn
Eclipse, Kent Anthony
Espino, Carlos
Flores, Christine May Vertulfo
Galigao, Rolando Jr
Gerilla, Robert Joseph
Heguillena, Sincere
Hidalgo, Niño Salvador
Labro, Hubert
Legaspi, Deolito Jr
Luares, Christian
Miraflor, Indera
Modesto, Rodil
Navarro, Shekinah
Nogadas, Vergel Pabunan
.Olivar, Mary Chris
Pailago, Japeth
Pontica, Jason
Quinabo, Claudine
Reas, Justin Phillip
Rillon, Christian Jerome
Ripalda, Christyll Joyce
Ripalda, Elline Claudette
.Sabit, Jean Marielle
Salazar, Daryl Grace
Solamo, Dan Angelo
Sosing, Giovanni Partoza Jr
Suan, Raymund Christopher
Suyom, Sandra
Taganna, Kerchie
Tambal, Angel Rose
Tanguin, Argie
Teposo, Krestie Nel
Valdez, Jerome Jade
Villamor, Kenneth John
Zamora, Allan Rey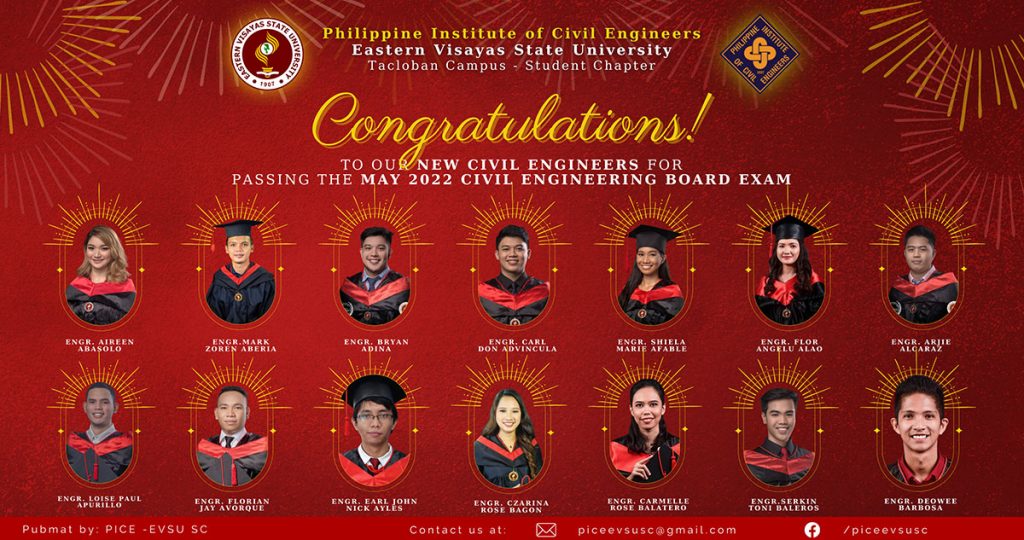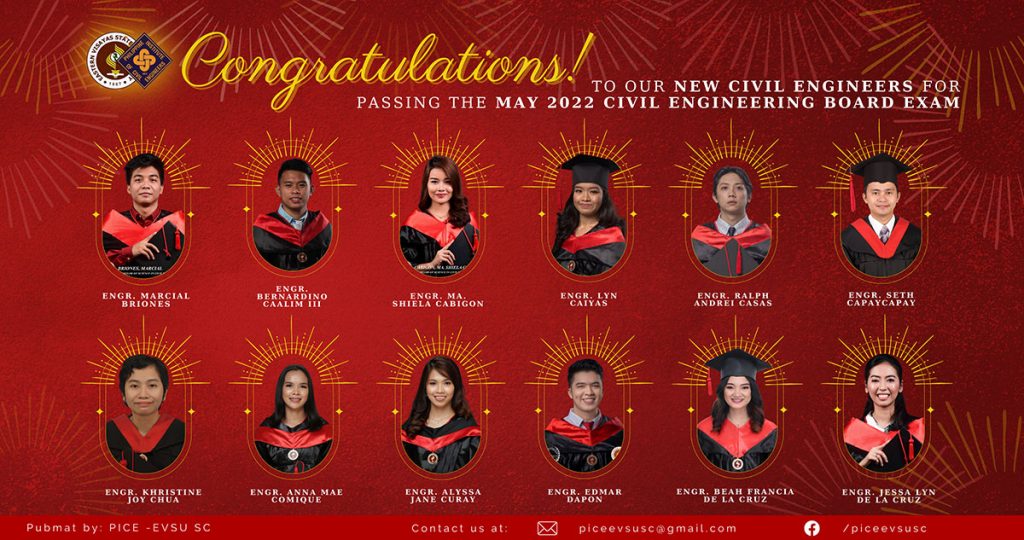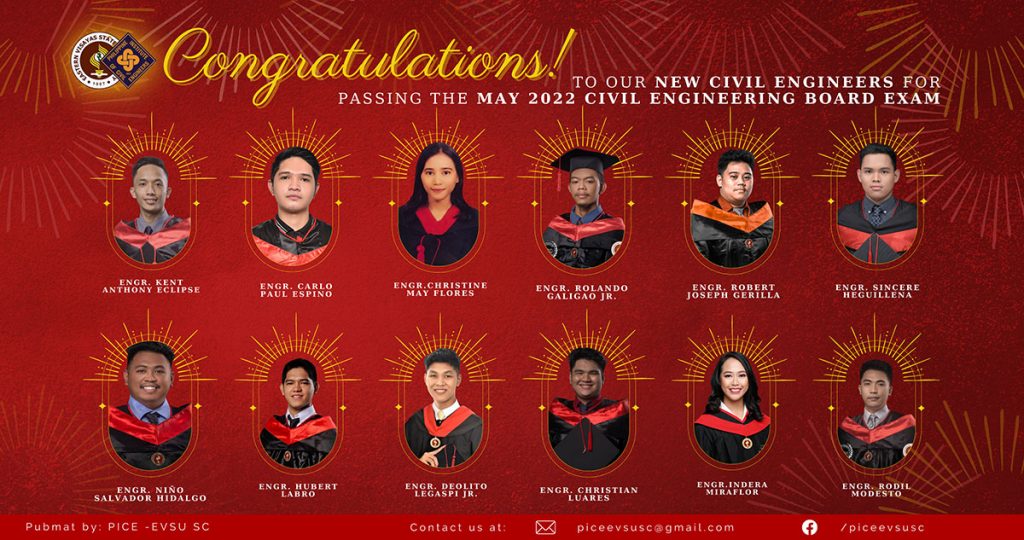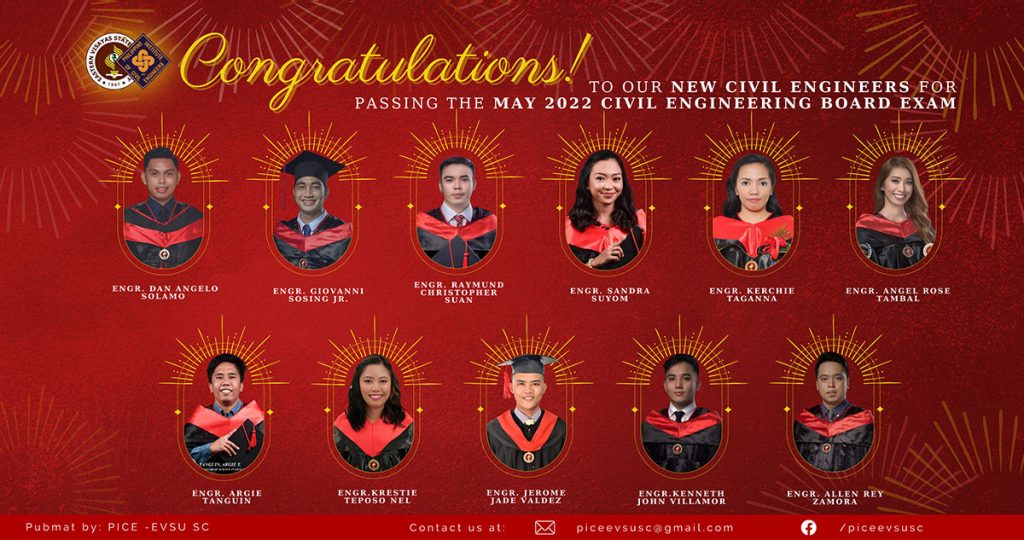 Your EVSU CE family is proud of your new feat! Amidst uncertainty, anxiety brought by the pandemic you remained bold and strong. Learning, dreams, and aspirations shall prevail. Mabuhay kayo, engineer!
EVSU-Tacloban bagged a 54.02% passing rate for the first-time takers and 44.53% overall passing.
5,836 out of 13,781 passed the Civil Engineer Licensure Examination given by the Board of Civil Engineering last May 2022.
SOURCE: https://www.prc.gov.ph/article/may-2022-civil-engineer-licensure-examination-results-released-five-5-working-days/5591
---