Dr. Dennis de Paz participated in the recently conducted Taiwan-Philippines University Presidents' Virtual Forum held on August 24, 2021, via Google Meet.
The forum was jointly hosted by the Taiwan Education Center (TEC) and Philippine Association of State Universities and Colleges (PASUC). Anchored on the theme, "Language Education and International Linkage Under COVID-19", university administrators, academicians and other professionals from Taiwan and the Philippines gathered virtually to enhance existing ties and forge new collaborations in instruction, research, industry-academe partnerships, and language learning between the two countries.
The activity commenced with welcome messages from dignified personalities in the persons of Dr. Cheng Ying-Yao, President of National Sun Yat-sen University; Dr. Tirso A. Ronquillo, PASUC President; Dr. Lio Mon-chi, Political Deputy Ministry of Taiwan; and Hon. Michael Peiyung Hsu, Ambassador of the Taipei Economic and Cultural Office in the Philippines.
Moreover, a Keynote Speech was given by the Philippines' CHED Chairperson, Hon. J. Prospero E. de Vera where he talked on Global Education under COVID-19: Reality, Prospects and Innovations. His lecture highlighted the implementation of Flexible Learning in the New Normal.
Further, there was a feature presentation on the Recent Development and Exchanges between Taiwan and the Philippines and plenary talks on Innovative Framework on Sharing Language Education Resources, Teaching Languages through Connected Learning, and Building Bilingual Environment where Discussion and Open Forum followed which was moderated by Dr. Ying-Huei Chen.
The event culminated with closing messages from Dr. Jesus Rodrigo F. Torres and Dr. Nicole Yen-Yi Lee.
EVSU-President-Dennis-de-Paz-attends-2021-Taiwan-Philippines-University-Presidents-Virtual-Forum-2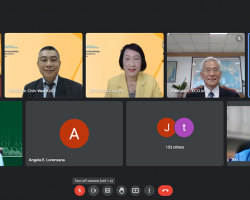 EVSU-President-Dennis-de-Paz-attends-2021-Taiwan-Philippines-University-Presidents-Virtual-Forum-3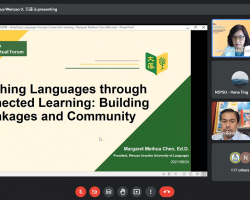 EVSU-President-Dennis-de-Paz-attends-2021-Taiwan-Philippines-University-Presidents-Virtual-Forum-4
---